This web page has been created and maintained by Miguel Plano (also known as "Mini Cord" in many forums), who has dedicated most of his life to the world of motoring and Minis with the help of his father Ricardo Plano.
With this web page we want to share our passion with all the classic Mini fans and scale model collectors in the world.
If you have any information or comments, please feel free to contact us.
Since February 1st 2001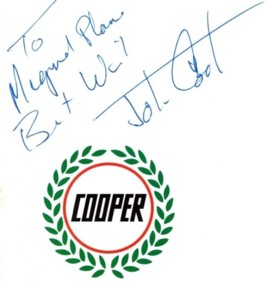 Este portal ha sido creado y mantenido por Miguel Plano (también conocido como "Mini Cord" en varios foros) y que ha dedicado gran parte de su vida al mundo del automovilismo y al de las Minis, con la ayuda de su padre Ricardo Plano.
Con este portal queremos compartir nuestra pasión con todos los aficionados del Mini clásico y coleccionistas de modelos a escala.
Cualquier información, colaboración o comentarios por favor no dude en contactarnos.

Fundada Febrero 1 del 2001